I have a strong (unconscious) pull to other mothers of 4 boys. I feel a great sense of kinship when I stumble upon another blog with "4boys" in their name.
Today's craft was inspired by FrugalFun4boys.blogspot.com.
I was just browsing the web and stumbled upon her Thanksgiving Craft idea.
You can click
HERE
to see her project.
Sarah a cute, homeschooling mom of four boys and shares great ideas. I love her preschool ideas.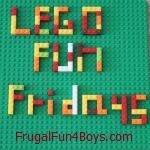 She hosts a Lego Fun Friday- that I want to check out. (My sons love legos too!)
I LOVED her Math station using Legos- you can
click HERE
to see that!
I am going to add that into my preschool rotation this week. I know my preschool little ones will enjoy this activity. (For my math station- I used number cards that
Funshine Express
provided.)
It was fun "meeting" Sarah- you should check her out!